There's a reason New York City is dubbed "the city that never sleeps" — because it's true. Anywhere at any time you can find anything you want. It's truly a city of opportunity in that way.
This means that at all hours of the day, people are out and about doing their thing. The streets of New York are the veins for how people do things, and the bike community within NYC is like no other in the country. Brooklyn specifically has a tight-knit group that is always looking out for each other.
So it only makes sense that Brooklyn is the hub of Bikestock, New York City's 24-hour bike repair service that operates out of vending machines.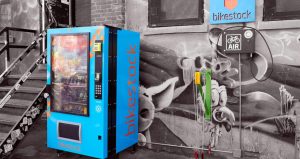 With four machines throughout Brooklyn and another two in Boston, Bikestock has won over the bike community of NYC thanks to its dedication to being there for bikers at all hours, but also because Bikestock is part of the community as well.
Launched by cofounders Joseph Huba and Matthew Von Ohlen, both are longtime bicyclists.
We try and keep ourselves really present and active within the bike community. It's the grassroots level of us getting the word out that's invaluable. A lot of people give us honest feedback and suggestions of what they could need or how the stuff we have works for them or doesn't.

Joseph huba
The machines themselves offer a wide array of bike necessities, as well as free air pumps and tool kits to use for almost any repair imaginable.
I've been a victim to that, 'Oh shit, I guess I have to walk home or take a car or the subway. Or lock my bike up and come deal with it when I can.'

Joseph Huba
Running the operations out of his own apartment, Huba notes that they like to work closely with small bike companies to specialize their offerings. "We've had a lot of success with local bike companies that make awesome stuff. Road Runner, those are good friends of ours and they're based in LA and people here really like it. Another company Mer, they're right down the street. They make stuff that all cyclists use."
"We definitely see there is a demand for it. It's been nothing but a positive reception from the bike community. A lot of
Can we get this in my city? Can we get more in New York?
---
Other Vending Machine Applications