Staples Inc. has installed vending machines at Logan International Airport and a handful of college campuses, hoping to learn whether captive consumers in need of emergency office supplies will pay a premium for computer mice, pens, headphones, batteries, or travel-size Monopoly games.
While no one actually used the two red vending machines sitting across from US Airways's ticket counters in Terminal B one afternoon this week, plenty of passers-by stopped to get a closer look at what was inside. Many of them said they welcomed the convenience, even if it often comes at a higher price.
"I would say that it's a good thing," said Chris Root of Woods Hole, who passed the Staples machines while on a layover at Logan.
"Most of it looks reasonably priced and it all looks like stuff you could come up short on."
Louise Sawyer, a Boston nonprofit consultant en route to New York, discovered the machines while wandering Terminal B looking for a candy machine.
"I came over here because I was hungry," Sawyer said. "They've got me right where they need me. It shows that the company is thinking about business travelers."
Staples is just one of many retailers now experimenting with so-called nontraditional vending to sell products at higher prices with lower overhead, said Michael Kasavana, a hospitality business professor at Michigan State University, where Staples has two vending machines.
"We're trying to bring new brands to the automated retail space. One way to do that is through branded vending machines," said Joe Preston, Vision's president.
Staples's machines look and act just like others where you might buy candy or a bag of chips, with a few added twists — and some familiar glitches. Products — from a $60 SanDisk compact flash memory card, a $45 Targus USB optical scroller mini mouse, or a $3 box of Crayola crayons — are lined up in slots that are identified by a combination of a number and letter.
Slide your cash into the appropriate slot on the machine, punch in the location of the item you want, and wait for the metal coils to rotate, dropping your merchandise down behind a door where you can reach in and pick it up.
It's a pretty simple transaction when it works. A reporter using a credit card was able to buy the optical mouse, a $6 pack of Duracell AAA batteries, and the flash memory card with no problem.
Buying a $25 Cross brand ink pen, though, was a no-go. The machine initially rejected two credit card swipes before finally accepting the card and spitting out the pen. But as it fell, the pen's box fell apart, with only the empty box top landing behind the pick-up door and the pen itself on a shelf beyond the reporter's reach.
When told of the glitch, Staples spokeswoman Deborah Hohler said it was the first complaint the company has gotten about its vending machines, which have been in operation for about six months. She noted that a toll-free customer service number is posted on the front of the machines for such problems.
"Obviously, that shouldn't have happened, but if you call that number, they'll completely rectify the situation," she said.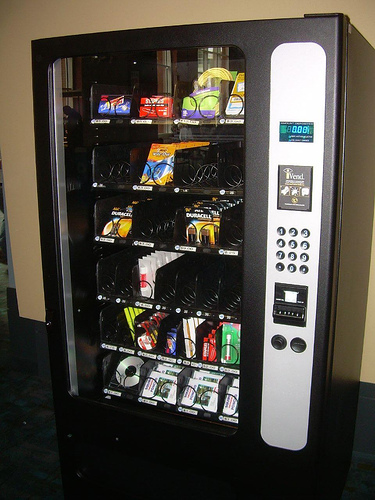 ---
Other Vending Machine Applications