With the full-scale rollout of Japan's cigarette vending machine age-verification system just around the corner, a Sankei Sports news reporter has confirmed the existence of a minor flaw: magazine photos can be used to fool the Age-verification Vending Machine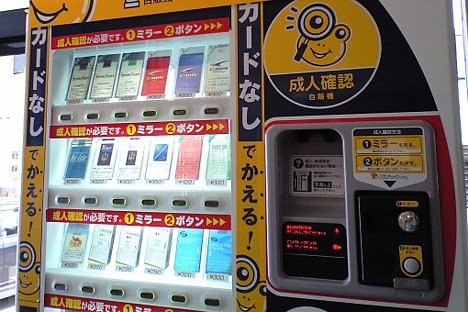 When the reporter went to check out the new age-verifying machines after they were introduced in the Osaka area in June, he soon discovered that the machines equipped with face-recognition cameras would let him buy cigarettes when he held up a 15-centimeter (6-in) wide magazine photo of a man who looked to be in his 50s.
The reporter also went to Kobe, where different face recognition hardware is being used. There, he bought cigarettes using an 8-centimeter (3-in) wide magazine photo of a female celebrity in her 30s. He also reportedly tried to use a 3-centimeter (1-in) wide photo, but the machines rejected it.
As part of the age-verification system, most of Japan's 570,000 cigarette vending machines are being outfitted with RFID readers that check the purchaser's Taspo age-verification card. Smokers without a Taspo card can now either buy their cigarettes in person over the counter or use one of 4,000 special machines equipped with face-recognition systems (these machines do not require Taspo cards).
The face-recognition machines rely on cameras that scan the purchaser's face for wrinkles, sagging skin and other signs of age. Facial characteristics are compared with a database of more than 100,000 people, and if the purchaser is thought to be well over 20 years old (the legal age), the sale is approved. If the purchaser looks too young, they are asked to prove their age by inserting a driver's license.
---
Other Vending Machine Applications