A pioneering partnership between Warwickshire County Council and the hospital is making library books available around the clock for patients, visitors and staff.
Warwickshire Libraries have installed a library book vending machine by the pathology unit, an area of high footfall, effectively taking the library to those who are unable to get to a library building.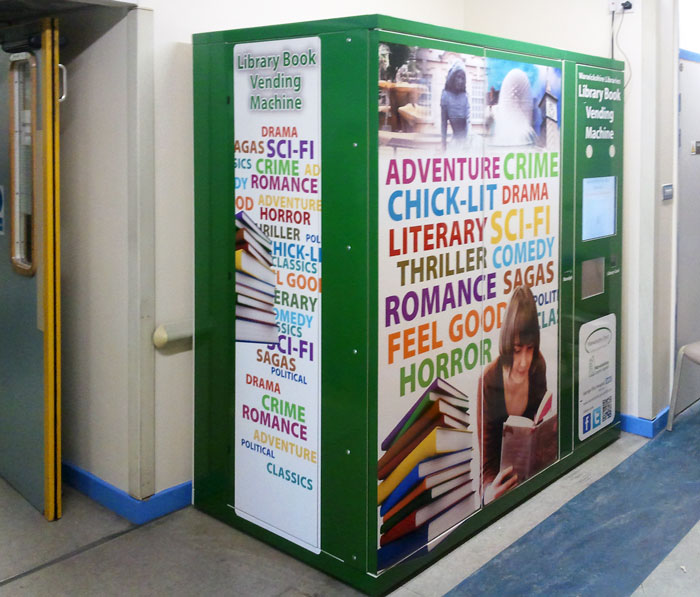 The vending machine holds around 400 books, operates 24 hours a day and is available for use by any members of Warwickshire Libraries. It is the first vending machine of its kind in the UK to be placed in a community venue.
George Eliot Hospital has a workforce of 1,800 staff and around 245,000 patients a year. Many of them will have difficulties going to a library building whilst working or staying in the hospital.
Similar schemes have been set up in Sweden, the Netherlands and in California but these are primarily at shopping centres and railway stations. The only other example in the UK is housed outside Newcastle Library.
The machine is activated by scanning a library card and scrolling down the touch screen using simple commands to choose and borrow a book and take a receipt. Books can also be returned and, like borrowing, the process takes a matter of seconds.
Each partner has had different roles to fill. The county council purchased the machine and oversaw its installation. It will provide stock and membership cards. George Eliot Hospital provided the suitable location and access to network links in the building. Its volunteers will undertake the day to day operations alongside library staff.
The machine was custom-built for the hospital and had to be linked to the library management system and borrower records, requiring a dedicated high-speed internet link.
Cllr Colin Hayfield, portfolio holder for customers, access and physical assets, said: 'There is a growing evidence that reading can play an integral part not only in well-being but also in recovering from illness. This partnership will make books available to people who need this benefit but would not be able to get them.'
George Eliot Hospital's Chief Executive, Kevin McGee, said: "We're delighted to be working with Warwickshire County Council to bring this innovative new service to our patients, visitors and staff. It will be especially beneficial to our patients, helping to make their stay in hospital more comfortable."
---
Other Vending Machine Applications