Amazon, the company that defined the world of online commerce, is venturing further into the world of physical retail — experimenting with standalone, automated 'Kindle Kiosk' vending machine in selected airports and shopping malls.
The machines sell everything from the $379 Kindle Fire HDX to a $20 Kindle PowerFast adapter, in addition to Kindle e-readers and covers.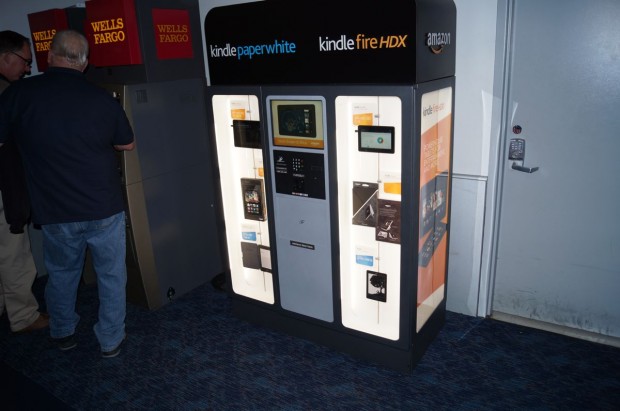 Amazon's stealthy experiment started rolling out in November, according to an Amazon customer service representative.
'We're very happy with the customer response so far, and are excited to give customers another easy way to purchase accessories and also Kindle products" the spokesperson said.
The experiment signals the company's desire to expand beyond online sales and third-party retail stores, directly selling its hardware and accessories in physical locations.
Tech companies such as Apple and Microsoft have ventured into physical retail with splashy stores, but it's no surprise that Amazon — with its low margins and love for automation — would instead try a vending machine. It's not clear how many people will feel comfortable purchasing something as expensive as a $379 tablet from a vending machine. But at $69, the standard Kindle e-reader could be an impulse buy for someone preparing for a long flight.
---
Other Vending Machine Applications