Our multi-purpose vending machines comes from well known US Brand 'CRANE'.
Crane is your source for the most innovative, capable and reliable vending machines on the market today. Its vending machines are specifically designed to attract new consumers and provide an engaging retail shopping experience.
Snack Machine – Crane 186 and 187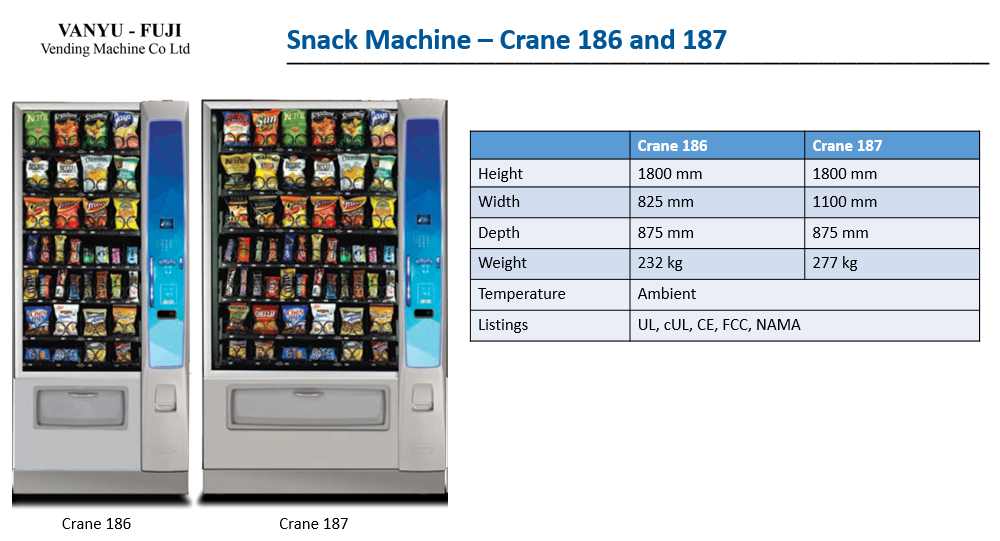 Snack and Drinks Machine – Crane 471 and 472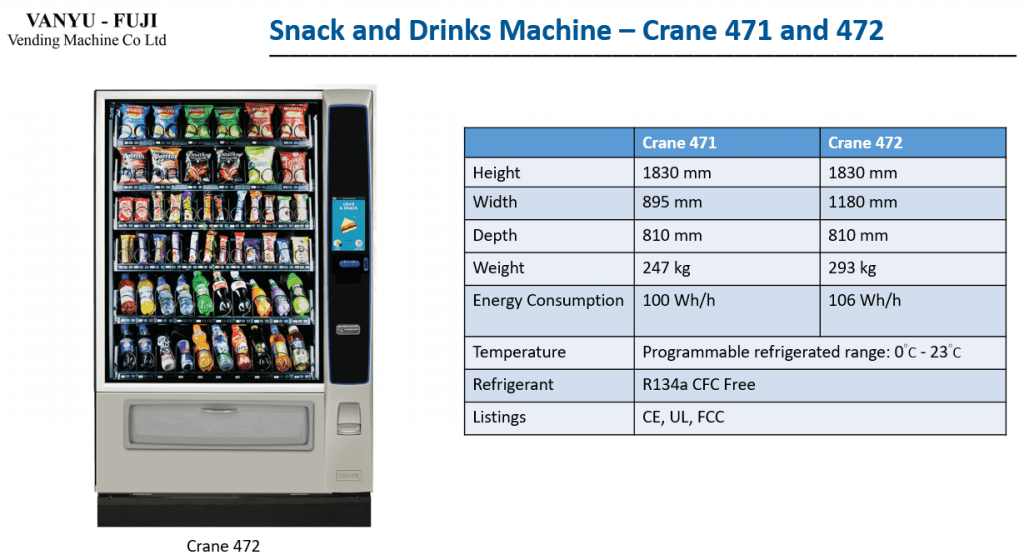 ---
➡️
Why choose CRANE?
Faster Performance

– Delivery unparalleled speed, reliability and screen responsiveness

Higher Engagement

– Engage consumers with larger, 9-inch touchscreen and full-motion video (7-inch touch screen standard)

Increased Sales

– Digital advertising drive impulsive and multi-product sales

Product Variety

– Increase sales and consumer satisfaction with a great product selection

Cash Payment

– Capture every sale with a built-in and intuitive cashless solution

Remote Management

– View sales transaction at real time
✨ 

Durable Construction
Single-piece cabinet wrapper construction design is built to last
Significantly less parts, improves simplicity and reliability (delivery bin, tray harnesses, keypad…)
Proven keypad technology from appliance industry is built to last
Factory-installed LEXAN door option for tough locations
✨

Ultimate Merchandising Flexibility
Merchant Size has up to 54% more spirals (depending on configuration)
Increased vertical space when compared to SnackCenter for more or taller products
Shelf height can be adjusted in 1/2″ increments for ultimate flexibility
Easy loading shelves with no latches
✨

Latest Technology
LED light option reduces service costs, improves product view, and is more environmentally friendly
Improved SureVend option guarantees product delivery
New in-line GFCI (ground-fault circuit interrupter) power cord facilitates connection
Other Products and Solutions